Correctbook Team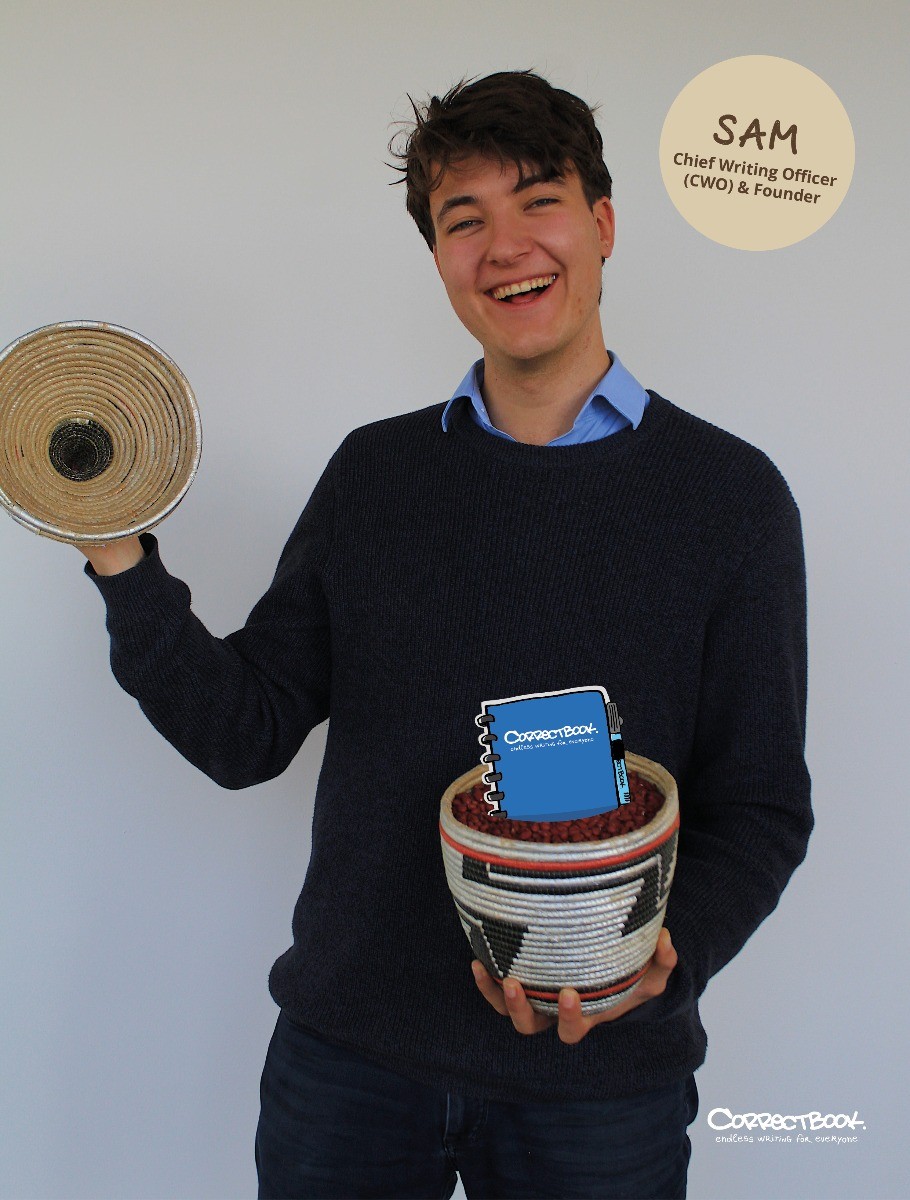 Hey! My name is Sam. I have the longest track record at Correctbook and I happen to be the founder as well. On a summer evening in 2014 I was having dinner at a pizzeria in Cape Town, South-Africa. "Why is everyone taking their food outside?" I asked the hostess. "They give it to the homeless people", she answered. I decided to do the same and that moment changed my life: I decided to put sharing first in my life. Two aspects became important to me, in order to do that: social issues in the world and the desire to start my own enterprise. What I noticed during that vacation in South Africa in 2014: most of the children in the townships went to school, but often without access to basic writing material. "This is a big problem if you want to learn how to read and write", I realised. The rest is history and at the same time we're just getting started.
Sam, Chief Writing Office (CWO ) & Founder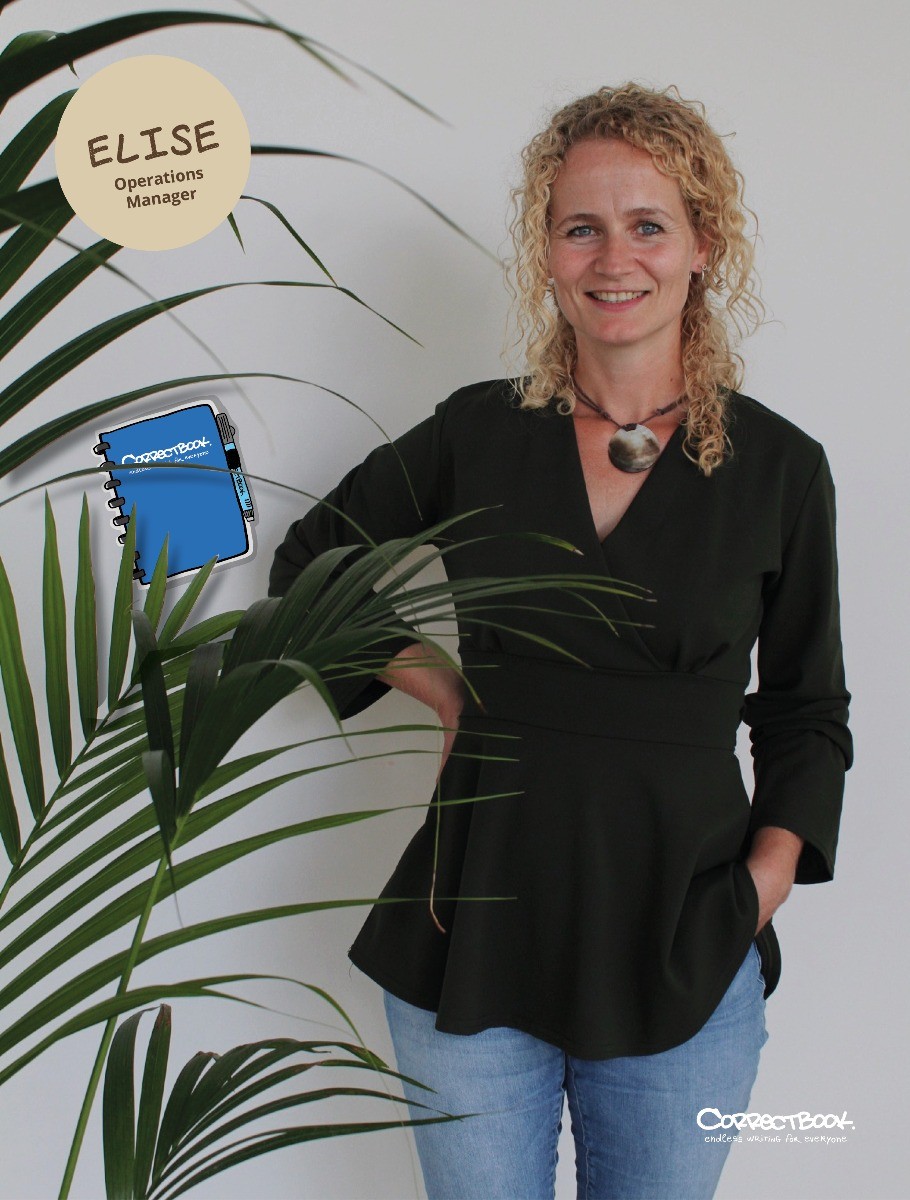 Hi, I'm Elise. On a beautiful evening in May 2018, I had an introductory meeting with Sam on the terrace of Restaurant Weena. He told me how he had been moved by the poverty in the slums of South-Africa and how this inspired him to start a company which had a concrete mission to do something about the lack of school material. Sam told me about the sales of his erasable Correctbooks going so well in the Netherlands due to the sustainable character, that it had become too much to handle all of the work by himself. Working for a higher purpose than simply earning money appeals to me. Nothing is more beautiful than to help build up a company that is still fully developing. I would be lying if I said it wasn't a big deal for me to quit my job to start working for a young man who was so young, he could have been my own son, but it was – and still is - a fantastic adventure that I still enjoy every day.
Elise, Operations Manager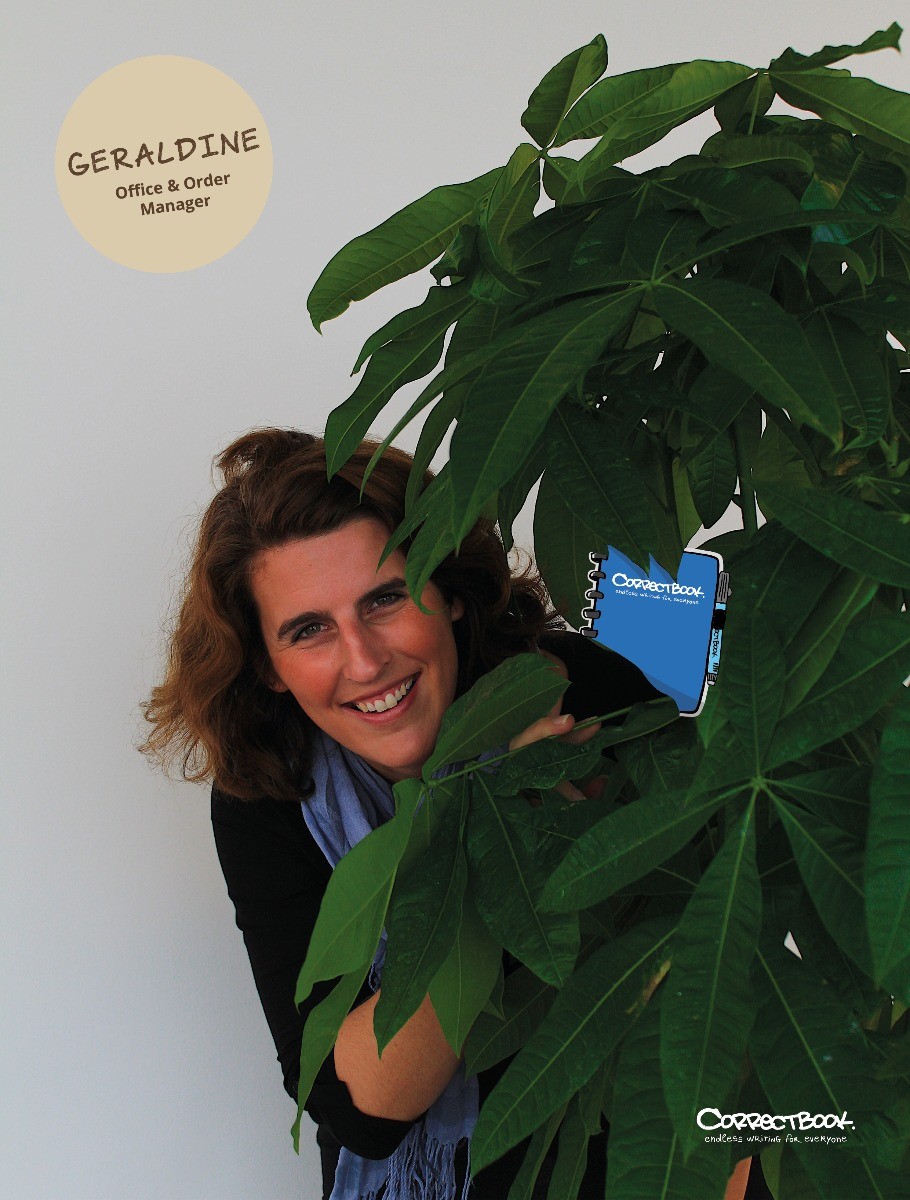 Hey, I'm Geraldine! After working for different companies in different functions, I joined the Correctbook team. I've been working here as the Office & Order manager for one and a half year now. It's my responsibility that the production process runs smoothly so that all the orders are delivered to the customers in time. I also make sure our website information stays up-to-date. I love working at Correctbook! Every day is a new challenge: There's always more than enough to keep us busy and we keep on improving our work as well. The Correctbook mission and vision is what I love most about my job. I'm very proud to be able to say I contribute to this enterprise and I will witness a lot of new developments the coming years!
Géraldine, Office & Order Manager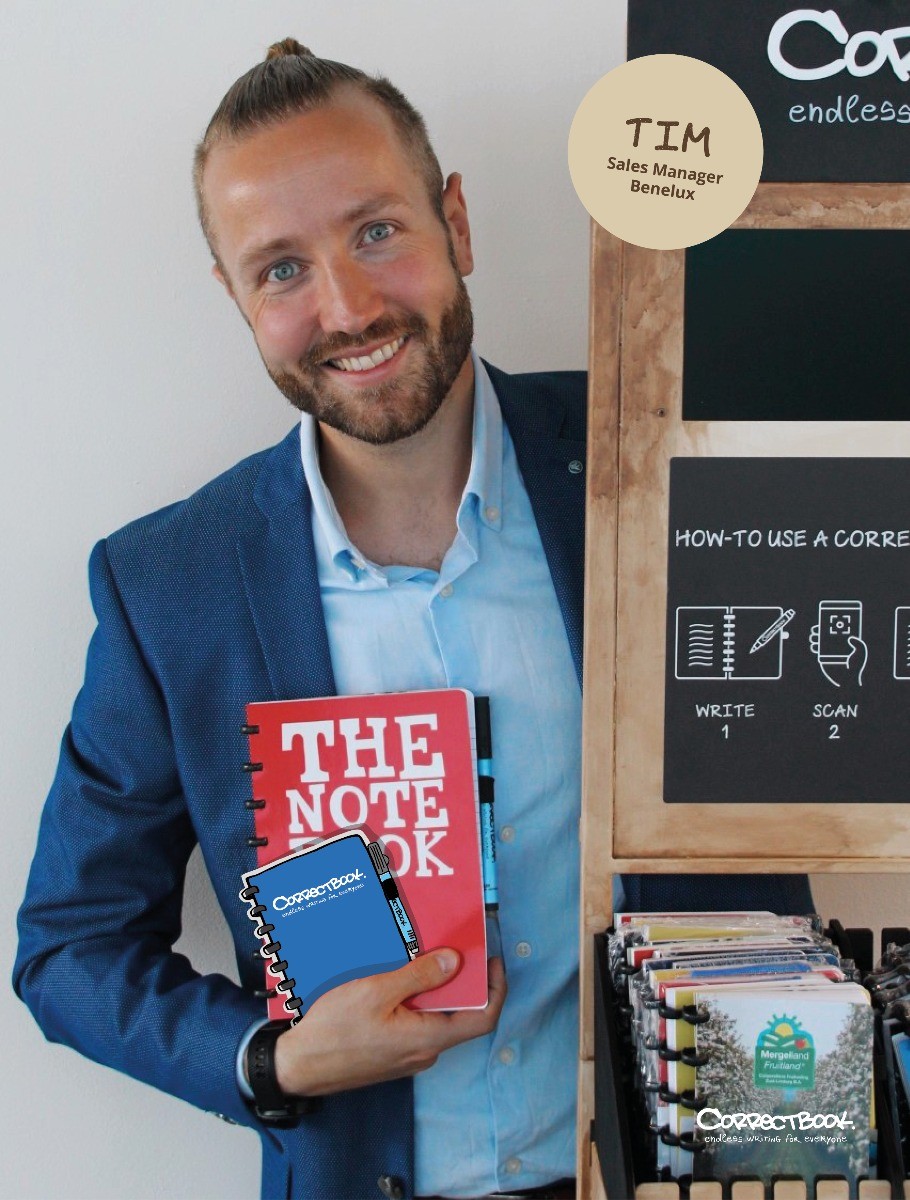 Hi, my name is Tim! 33 years young and father of Sam since June 2020. No, not Sam from Correctbook, but my very own Sam. There's no such thing as coincidence they say, because in August 2020 I started working at Correctbook as Sales Manager with Sam and his great team of people. I've been active in sales for over 10 years and having a commercial role in this social enterprise is massively exciting. Step by step and with our whole team, we want everybody in the world to know and support us in our fight against illiteracy. For that reason I hope to work here for many years to come, to make a little contribution to a slightly better world
Tim, Sales Manager Benelux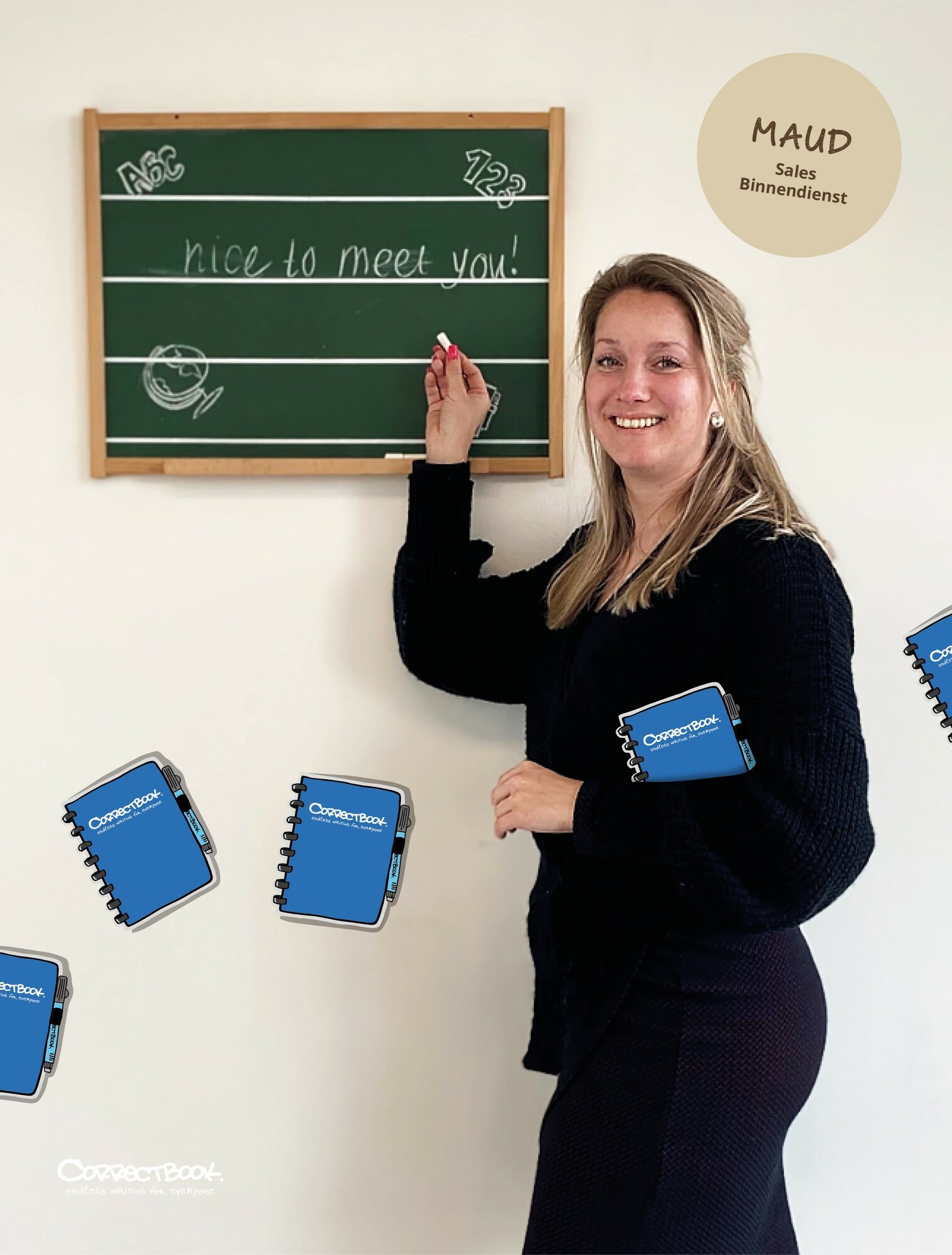 Hi, my name is Maud. Since the first of April 2021, I can call myself part of the Correctbook team. As a backoffice commercial assistant I will be ready to assist all customers. Personally and enthusiastically, I want to take you along in our mission. The way in which Correctbook fights to battle a global problem, namely illiteracy, is exceptionally beautiful. It feels special to be part of that and you can be part of it too. We often take things for granted, but there are so many children without writing materials and good education. By purchasing one Correctbook, we can provide one child in Africa with endless writing materials. Would you like to join us in this journey?
Maud, Sales Back office assistant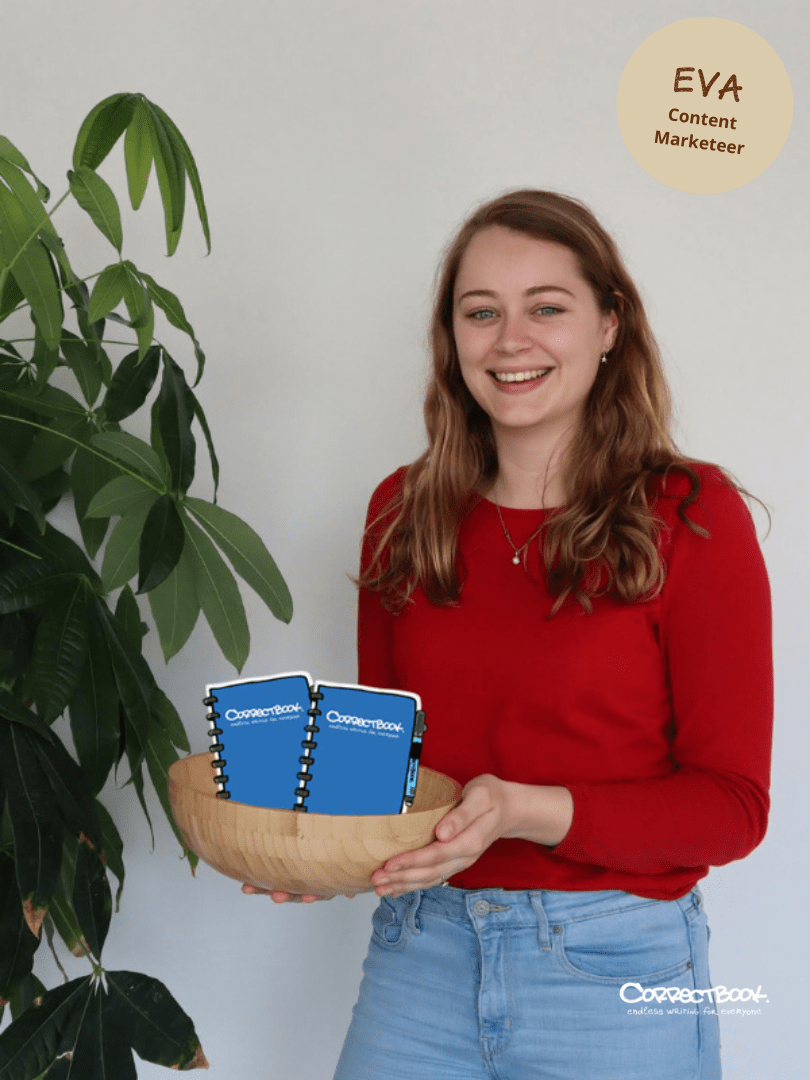 Hi! My name is Eva and in March 2021 I started at Correctbook as a marketing intern. After six months of learning, I came to the conclusion that I really wanted to be part of the Correctbook team. No sooner said than done! In December I started as a Content Marketer at Correctbook. My work consists of planning, creating and sharing content to increase the brand awareness of Correctbook. I find it incredibly valuable that I can contribute to the battle against illiteracy and at the same time realize this in an environmentally friendly way.
Eva, Content Marketeer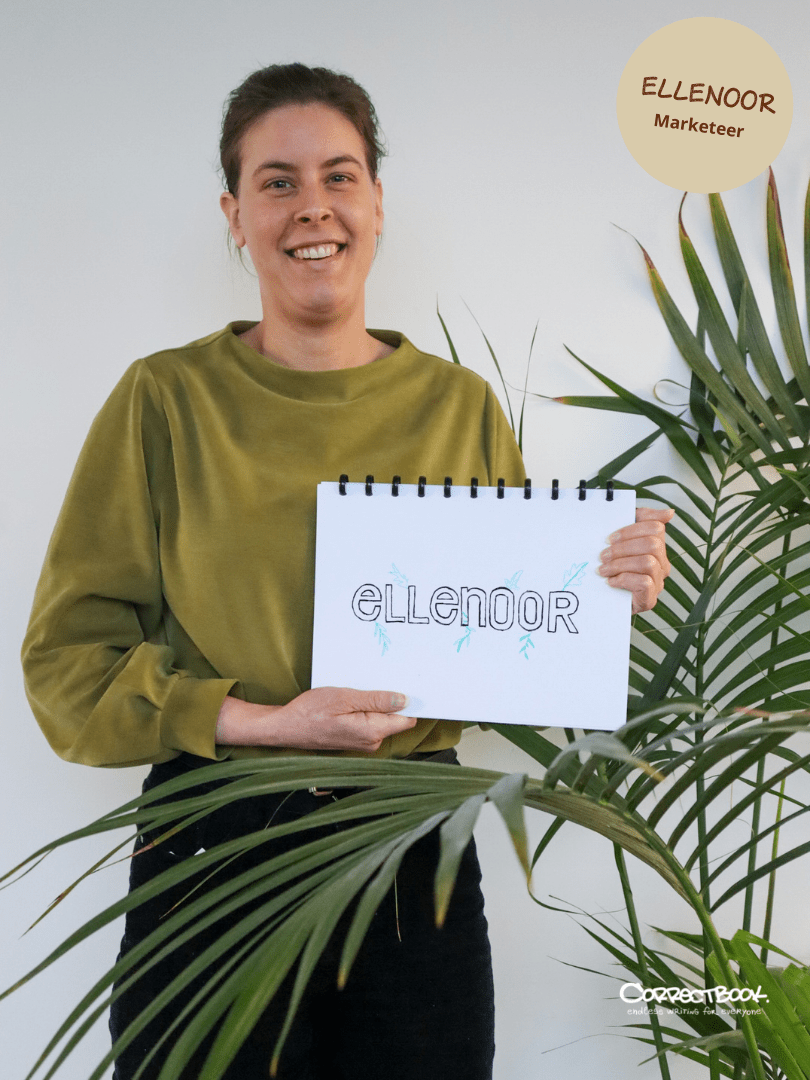 Hi, I'm Ellenoor. I kicked off the year 2022 in a good way by starting as a Marketeer at Correctbook from January on. The last few years my interest in sustainability has grown even further. Furthermore, I like to help other people, also because of my Christian background, and am trying to contribute to a better world. Plus, I love writing and creating. All these things come together in my work for Correctbook. I hope I can help this social enterprise even more to carry out her mission and keep fighting illiteracy.
Ellenoor, Marketeer
Correctbook Team Afrika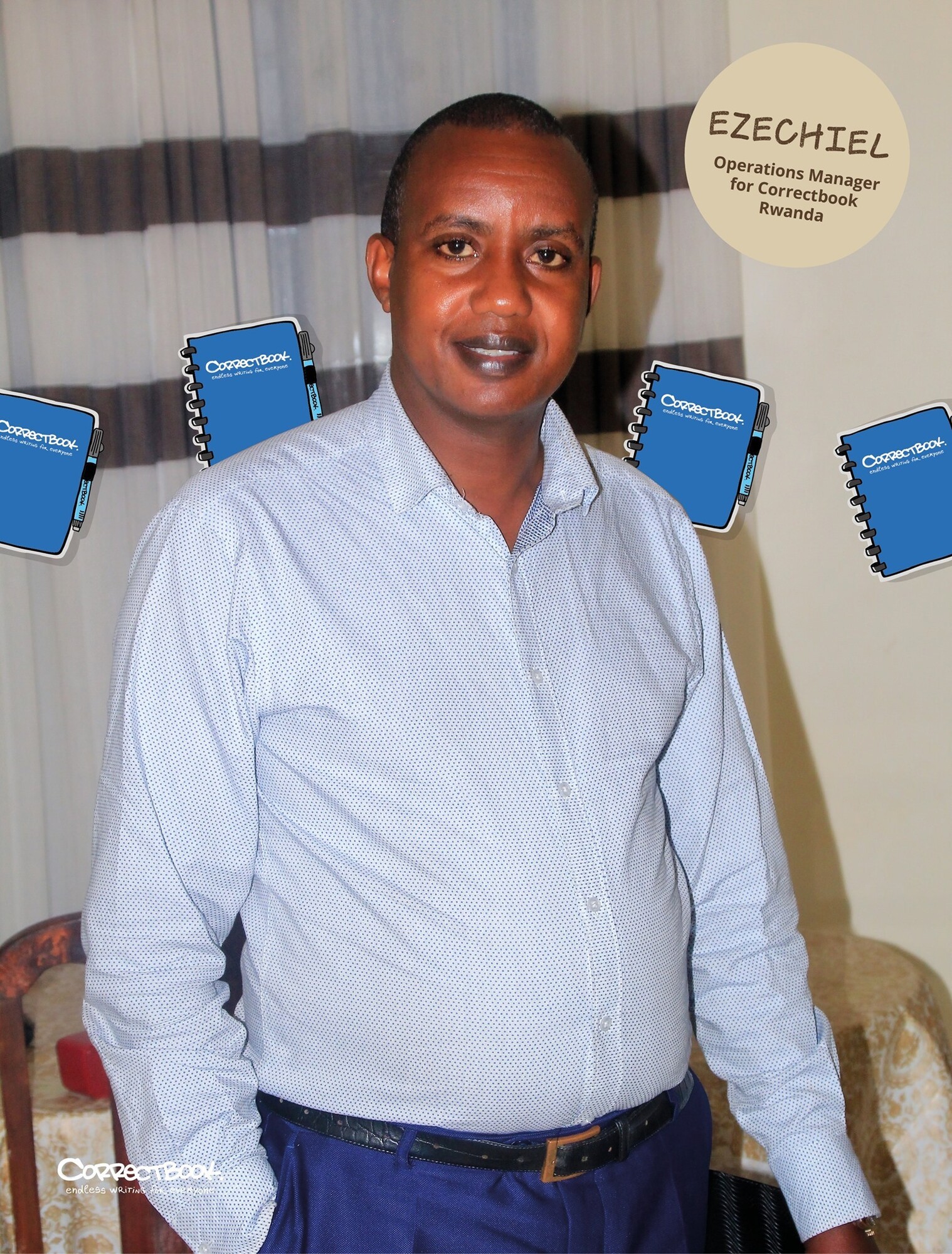 My name is Ezechiel, I am the production Manager and Correctbook Representative in Rwanda. I came to know about Correctbook through Jan Bosman who linked me with Sam Van Tol in 2018. Up until now I supported two big projects in Rwanda to empower over 17.000 vulnerable children with reusable writing material as a way to fight against illiteracy, especially in developing countries. I am very happy to be part of the vision of Correctbook of reaching one million children with writing material and I am proud that Rwandan children are benefiting from this impactful projects. I truly believe that we are able to expand these two projects to reach even more children in Rwanda. I personally thank Correctbook for their great contribution in advancing literacy through empowering children in Rwanda, hence, making Sam's dream a reality.
Ezechiel, Production manager & Correctbook representative in Rwanda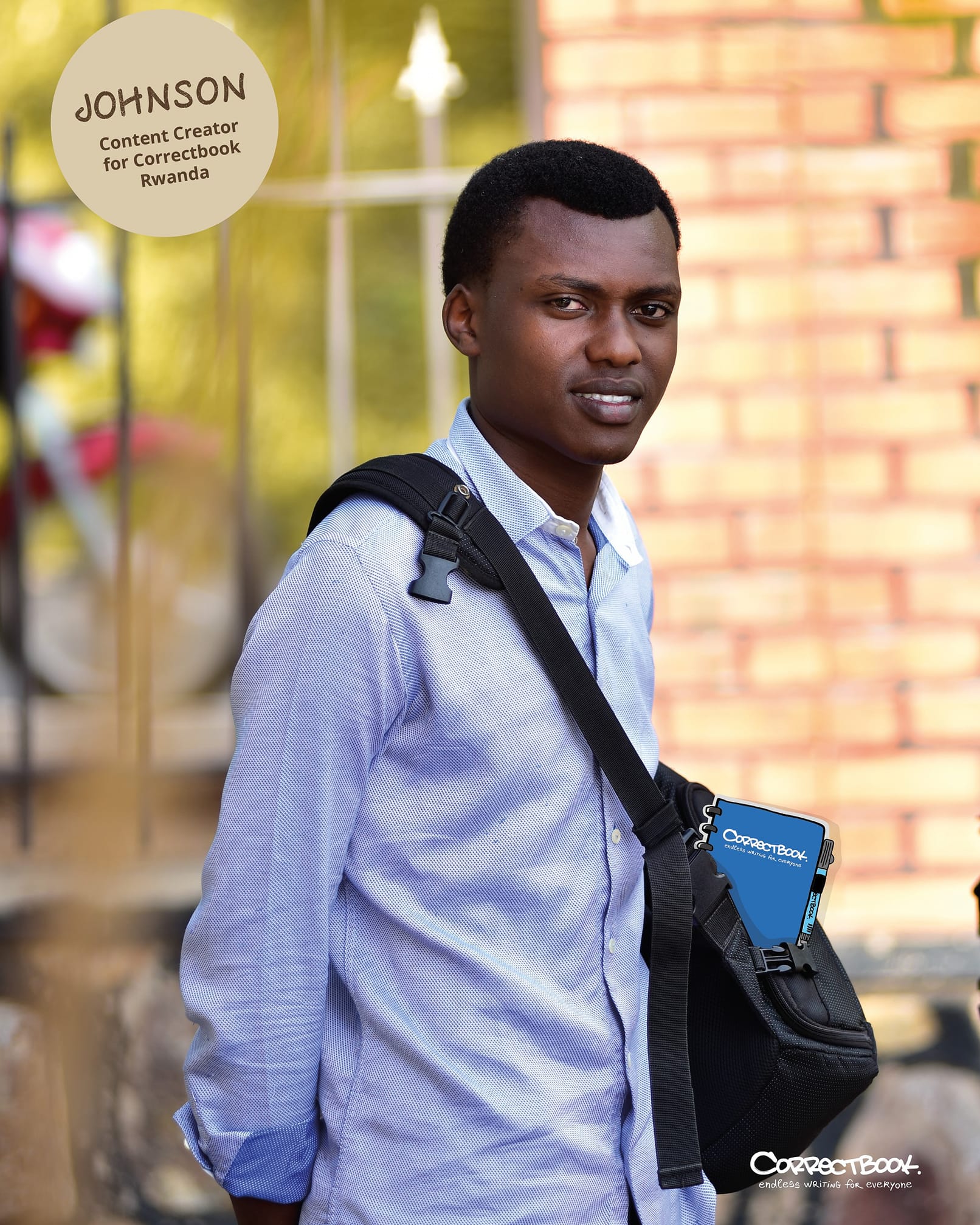 Hey! I'm Johnson, I am currently working for Correctbook as a Photographer. It was in 2019 when the Correctbook team came to Rwanda for a big project for the first time.
The team and I met at the local church, from which we travelled to the school distribution program together. While in a conversation with Sam, I told him that I'm a photographer. Later on back in the Netherlands he offered me a job of being their local photographer. This was very good news because it was my first job since the completion of my secondary studies.
It has been a great experience to work with Correctbook and I always experience how powerful their books are empowering kids by writing. Let me thank Sam and his team for their big vision and how they are making it happen!
Johnson, Photographer in Rwanda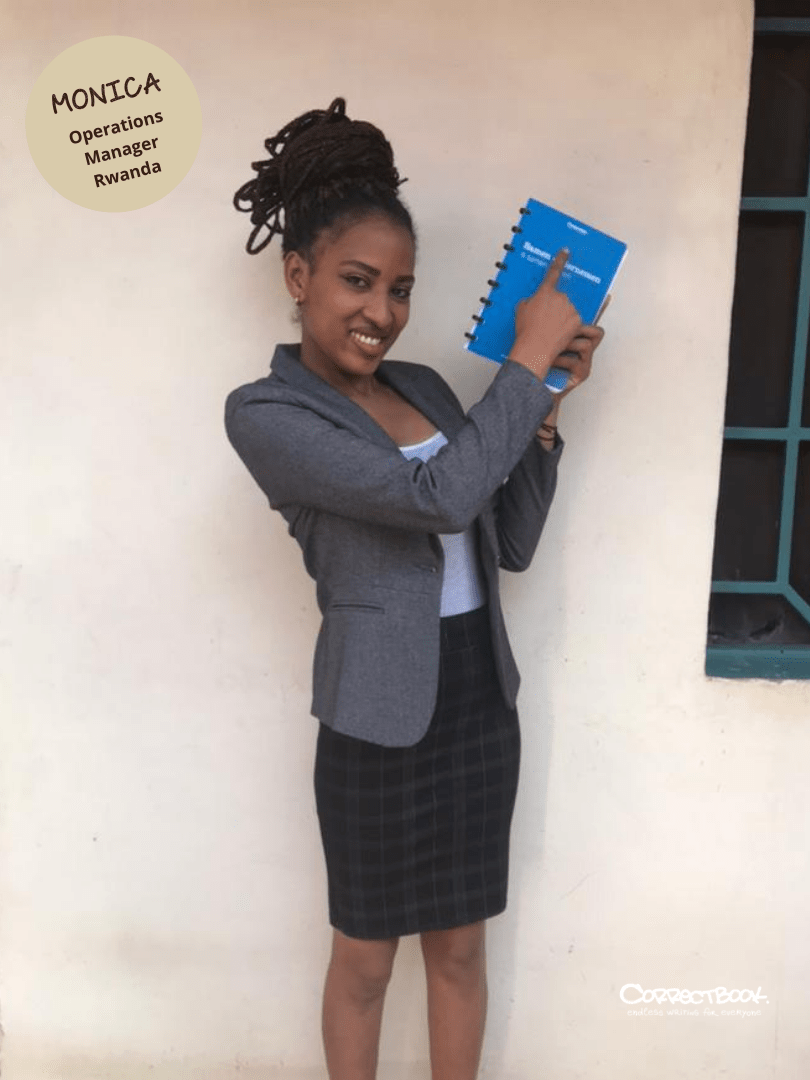 Hi, my name is Monica. My dream has always been to work with communities and this opportunity comes as an answered prayer to achieve my dream. This dream started to come true in July 2021 when I met Maryam from the Netherlands who introduced me to Sam from Correctbook. Sam told me about Correctbook's mission and I immediately became very excited. Straight away, I felt that this would be an opportunity to achieve my dream. I must confess, I knew from the beginning that I wanted to join the Correctbook team before I was even asked to. Seeing my brothers and sisters from Africa benefit from this impactful project makes me believe in humanity. I truly assure you that this initiative will expand and develop in Africa starting with Rwanda. With the support of the entire team, I believe that this will happen!

Monica, Operations Manager Correctbook in Rwanda.