Your Correctbook snow white again!
Wiping & rubbing; it can't be that hard right? Definitely not! There are a few clever tricks to make your Correctbook as white as snow in a quick & easy way. In this blog we hope to give you some useful instructions, to avoid having a sore arm ever again.
Less is more
The little eraser: at the bottom of the Correctbook pen a little eraser is attached. You can erase small errors with this. Do you want to erase complete failed artworks? You better use one of the options below!
Your clean routine
The cleaning cloth: our textile star which you get for free with each of our notebooks. This microfiber cloth is very useful for big surfaces. And the best thing is that you can use it endlessly, because you can just throw it in the washing machine. If you want it to come out shiny and pretty, please do not use a fabric softener. It doesn't really like heat so please avoid washing programs with a temperature above 60°Celsius. Lifehack; damp the cloth a little bit, your page will be white in no time!
Spray it till you make it
The cleaning kit: let me introduce you to the ideal combo – the cleaning spray and the cleaning cloth. The cleaning spray is a special water-based liquid, which will make ink and/or ink residue disappear easily. But that's not the only thing; it also protects your Correctbook© Core Pages. The ink cannot absorb easily in the pages anymore.
Spongebob is nothing compared to this
The Correctbook cleaning sponges are ideal for erasing short notes in your erasable notebook. The cleaning sponges will be delivered in a useful storage box.
Give me a recap please
Loving visuals? Take a look at our neat overview.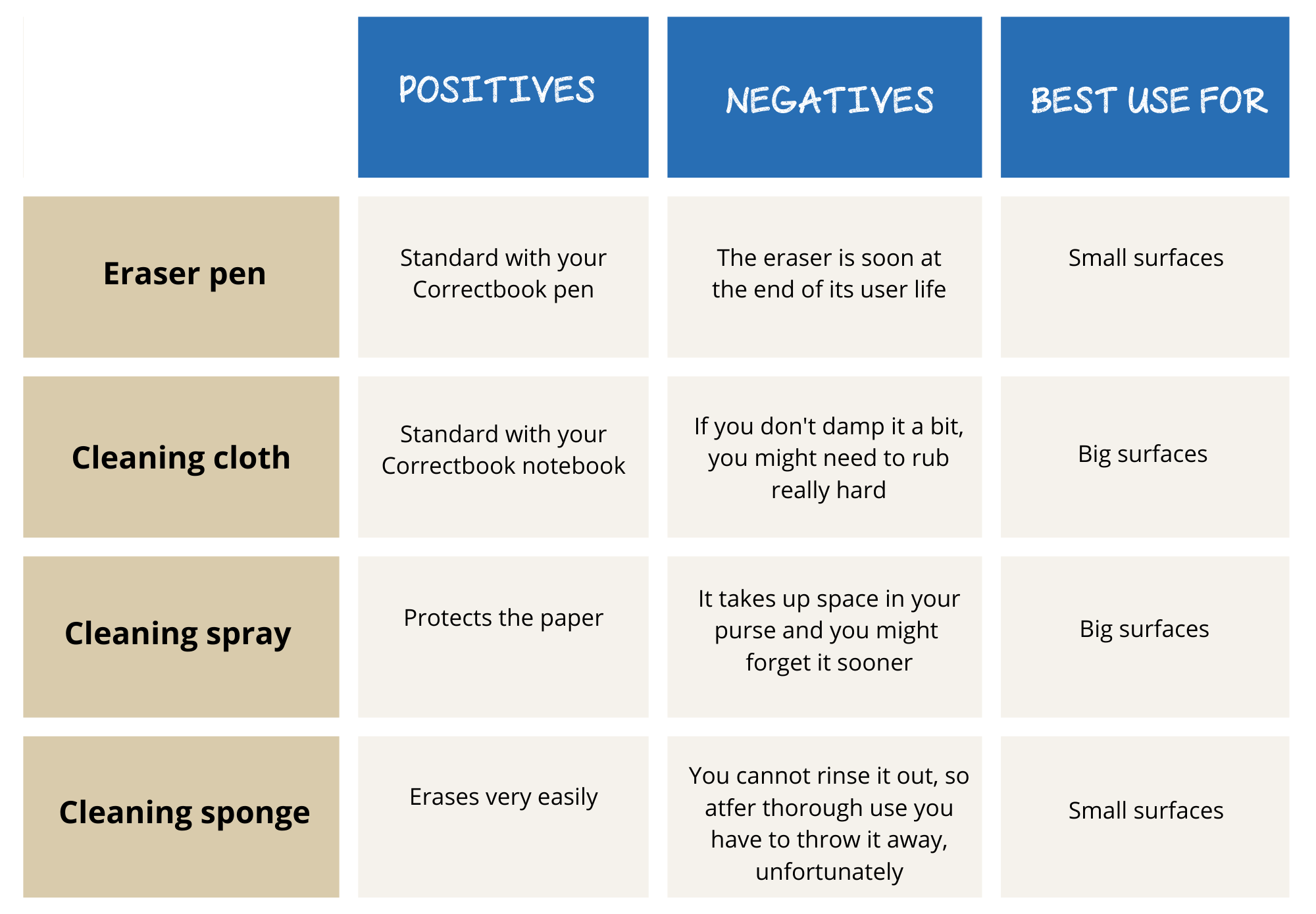 In this way you can enjoy your Correctbook products even longer and you are going green at the same time. Want to know more about the sustainability of our products? Check it out here.
Looking for another size or colour Correctbook? Discover our options here.